Dear Parents,
As you may know, at Avenue we organise Language of the Month activities that teachers undertake with their classes. As we are not in school at the moment, we thought you may like some ideas to help keep this interest going . Our Language of the Month for April is Italian. Below are some links and ideas that you could use to help your children learn some new Italian vocabulary and a few facts about Italy too! Enjoy!

Colours and Numbers
The link above teaches the colours in Italian. You could ask your child to draw the unicorn or a different magical creature and then ask them to name to colours in Italian.
https://youtu.be/8JsdiTiowGM
This video helps children to learn numbers from 1 – 10. When confident in saying them, they could draw or paint them onto a poster, then teach them to someone else.

History and Architecture
The Leaning Tower of Pisa is a building in Pisa, Italy. It is famous because it is not straight. Can you see that the tower is leaning to one side?
Can you make a model of The Leaning Tower of Pisa?
Cooking
With parents permission, children could create a new pasta dish, pizza topping or simple Italian salad and share their ideas with someone else . I've tried the recipe below and it's delicious!

Simple Italian Starter
3 plum tomatoes sliced using a suitable knife
2 tablespoons fresh basil and 2 Tablespoons fresh parsley, chopped
Olive oil
Salt and pepper to taste
Place sliced tomatoes on a serving platter. Sprinkle with chopped herbs and drizzle olive oil over the top. Sprinkle with salt and pepper. Easy Italian cooking can't get much better than this.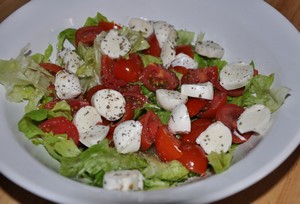 They can also learning a useful phrase ……..
Ho fame (oh fah-meh)-I'm hungry.😊

I hope you all enjoy the activity suggestions ! Buon divertimento !
Mrs Maddock
EAL Coordinator